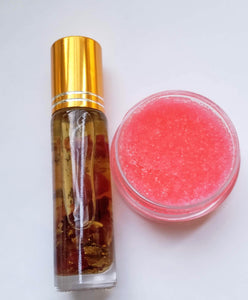 Treat your lips with some respect!
If you have dry, cracked, dark lips or even faithfully wear ultra pigmented glosses and lip sticks, add our Lip Care Candy Set to your night time exfoliation routine.  

SUGA BABY LIP SCRUB
 Infused with Olive Oil for moisture

 Removes Dead Skin

 Develop lips back to their natural pigment

 Soft, Smooth and Kissable Lips
 Strawberry Kiwi or Tropical Punch Flavor
ROSE GOLD LIP OIL: infused in organic rose petals and edible gold flakes.
 Infused with Natural Oils like Jojoba, Shea, Apricot and  Castor oil 

 Healing Properties

 Prevents dry cracked lips

 Non glossy & sticky 
 Natural Shine
Also every time you apply any lip scrub be gentle as you don't want to scrub off any healthy skin, just the dead skin.
Apply lip oil right after exfoliation to lock in moisture.
Beauty sleep at its finest!